June 15th was National #DumpThePump Day. On this day, people from across the nation forgo using their personal car to clean commute to work or school. This year RideShare Delaware encouraged individuals to #DumpThePump by offering a contest and rewards for those choosing to clean commute. When someone logged five days of clean commuting on their RideShare Delaware clean commute calendar, they were entered into a raffle to win $50 in gift cards. Our lucky winner of this year's contest was Deborah Finch!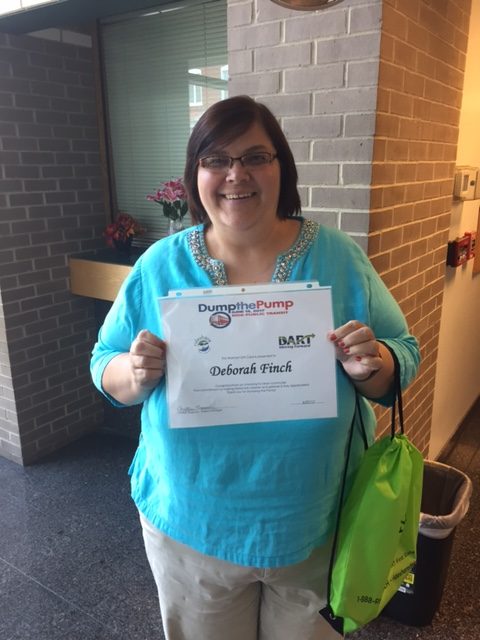 Deborah works at the United Way in Downtown Wilmington and carpools to work every day. Even though she lives in Wilmington, her short commute pulls over 40 miles of Single Occupied Vehicle (SOV) travel from our roadways each week. Showing that even if you live close to your work, a clean commute can go far in making our air cleaner and greener. We applaud Deborah's commitment to clean commuting.
On June 15th, the RideShare Delaware Team was at the Dover transit center to reward the state's transit riders. In total, we gave out prize packets to 30 individuals that were taking transit that day. We also held a Wawa gift basket raffle for one lucky clean commuter. That winner was Margaret Hicks, who uses DART's route 102 and 104 to get around Dover.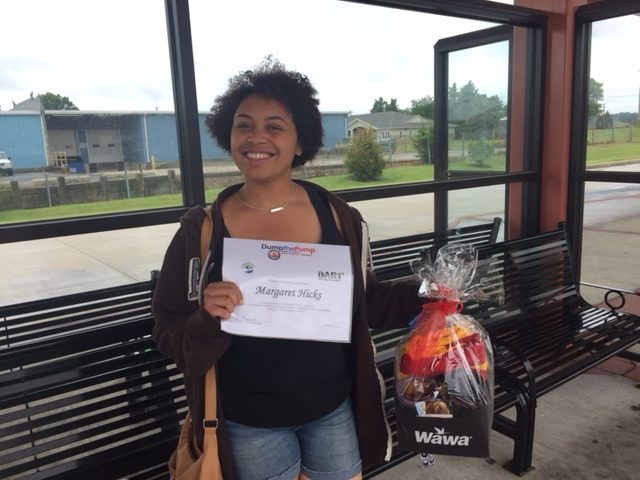 In total, RideShare Delaware's clean commuters pulled over 1200 miles of SOV travel off Delaware Roadways.  Great job Dumping the Pump Delaware!