The Rideshare team hosted our first ever transit patrol on January 16 to thank DART riders for choosing to clean commute. We visited three major employers in the Wilmington area:  AstraZeneca, JP Morgan, and Nemours Children's Hospital. We stationed ourselves at the bus stations nearest to these employers, primarily focusing on routes 28 and 48. To thank DART riders, we handed out granola bars with our Guaranteed Ride Home cards. The Guaranteed Ride Home benefit allows members who have logged their green commutes to get reimbursed for an emergency ride home up to five times a year.
During our transit patrol, we collected statistics on how many employees chose to take transit to work at each location. For example, from about 6:30 a.m. to 9:00 a.m., five commuters chose to take the route 28, while 19 commuters chose to take the route 48! Being able to personally thank our green commuters was such a pleasure! Keep an eye out for the RideShare Delaware transit patrol…coming soon to a DART station near you!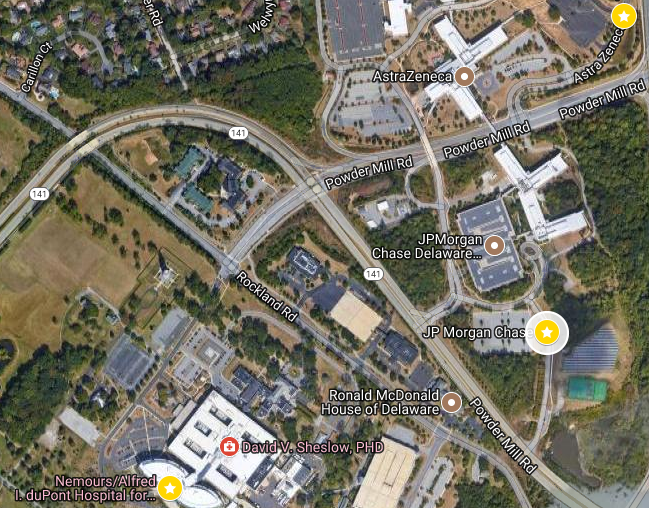 Above: An image from google earth shows the dense number of employers in this area. Our three locations are marked with yellow stars. RideShare Delaware was happy to help promote DART's services to three of the state's largest private employers.