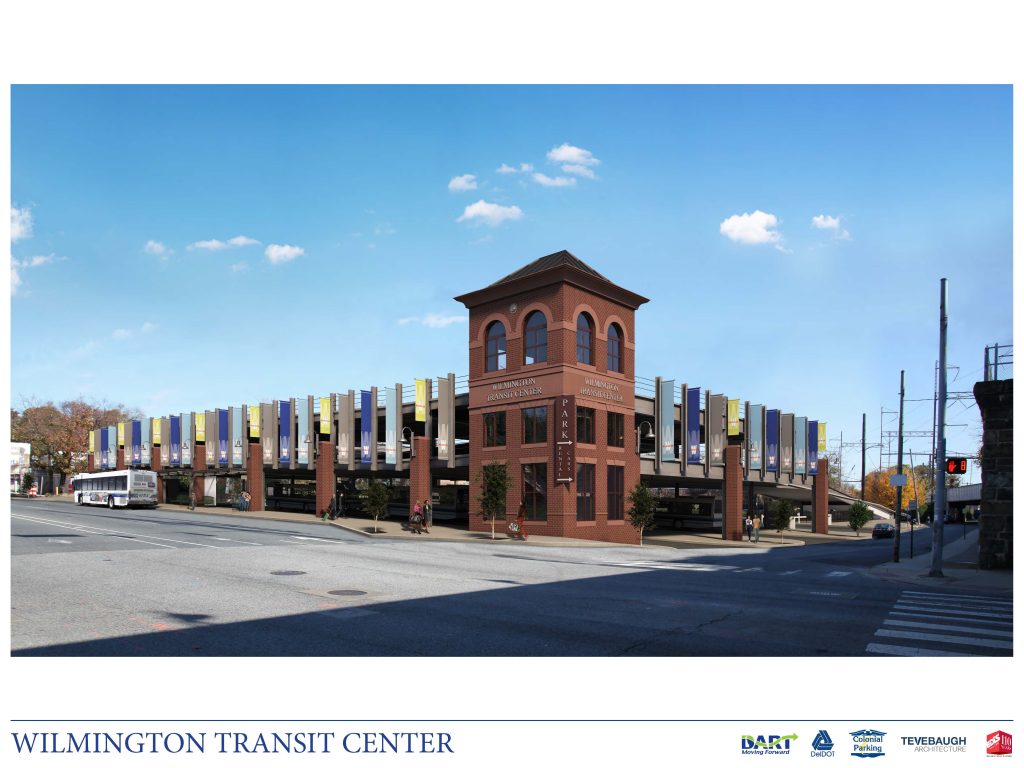 Wilmington – Today, Delaware Governor John Carney, U.S. Senator Tom Carper, and Wilmington Mayor
Michael Purzycki joined Transportation Secretary Jennifer Cohan, Delaware Transit Corporation (DTC) CEO
John Sisson and other state and local officials to celebrate the start of construction of the Wilmington Transit
Center.
The $10 million dollar project is being constructed as part of a public-private partnership between
DelDOT/DTC and Transit Center, LLC (Colonial Parking, EDiS Company, and Emory Hill Real Estate Services,
Inc.), using 100% State and private funds and is expected to be completed in December 2019.
The new transit center, to be served by most bus routes in Wilmington, will have the capacity to have up to
10 buses stage at one time allowing bus layovers without blocking city streets. The center will offer
customers a covered, seated waiting area, real-time bus displays, ticket sales, WiFi, USB charging stations,
restrooms, vending machines, and bike racks with a bike repair station.
"We are making millions of dollars of needed infrastructure investments across the city, and this is another
milestone project for Wilmington," said Governor Carney. "This transit center will serve thousands of
customers every day and provide the convenience and amenities that they deserve."
"This transit center is going to be a great addition to the city and we are excited that today marks the official
start of this important project becoming a reality," said Secretary of Transportation Jennifer Cohan.
DTC CEO John Sisson stated, "We're excited to break ground on this state-of-the art transit center, providing
our customers with a convenient multimodal hub within the City of Wilmington."
Strategically located adjacent to Wilmington's Joseph R. Biden Rail Station, the transit center will provide
convenient access to Amtrak, SEPTA, Greyhound/Trailways, and cabs. The center will also offer parking for
rental cars, as well as public parking including electric car charging stations.